Investing with Wealth Club
Wealth Club is the UK's largest investment service specifically designed for high net worth and sophisticated investors. 
It offers more than you would normally find on a standard investment platform: a wider range of more advanced investments, all supported by detailed, in-depth research. 
We explain the benefits and risks of each investment in clear English, so you can decide for yourself whether it is right for you. Equally, if you have any questions – no matter how simple or complex – all you have to do is pick up the phone or email us. Please note, we don't provide you with advice or personal recommendations.

What could I invest in? 
Below is a quick overview of the types of investments we offer, their benefits and risks, and who might consider them. 
Please note: all the investments mentioned tend to be higher risk and often more illiquid than mainstream investments so are only for experienced investors who could afford to lose their capital. 
Many of these investments carry tax benefits; although the official minimum holding periods are 5 years for VCTs, 3 years for EIS and SEIS and 2 years for IHT portfolios and forestry funds to qualify for or retain some of the tax reliefs, you should consider all of these as much longer-term investments. Tax rules can change and benefits depend on circumstances.

Important: The information on this website is for experienced investors. It is not a personal recommendation to invest. If you're unsure, please seek advice. Investments are for the long term. They are high risk and illiquid and can fall as well as rise in value: you could lose all the money you invest.
1. Tax efficient investments — up to 50% income tax relief when you support young, innovative job-creating businesses
Wealth Club is the largest broker of VCTs and EIS and SEIS funds in the UK. When you invest, you back early-stage, and hence high risk, innovative British businesses, which in turn create jobs and economic growth.
To incentivise investment, the government offers generous tax breaks that can save you tax but also help mitigate the greater risk of investing in small businesses.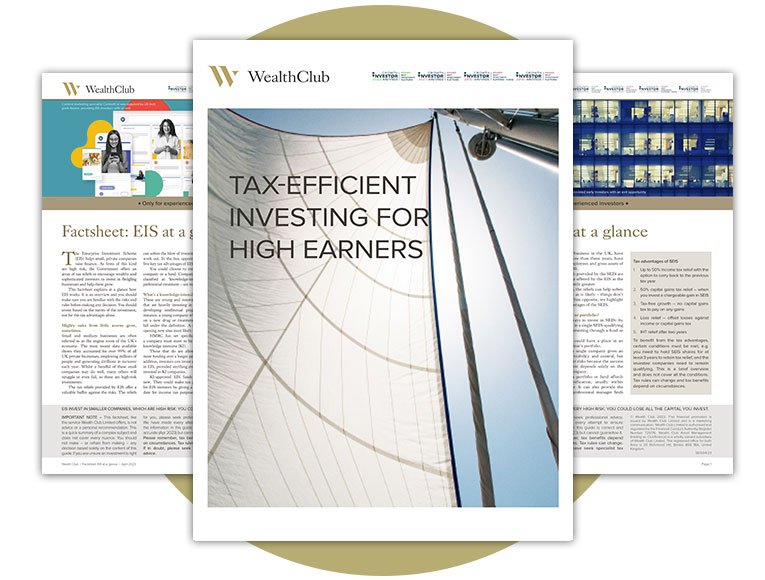 Each type of investment offers a different balance of risks and tax reliefs. Invest £100,000 in SEIS, for instance, and you could receive up to £50,000 back in income tax relief. Any returns could also be tax free. In addition to income tax reliefs, VCTs offer tax-free dividends, whilst EIS and SEIS offer potential inheritance tax and capital gains tax reliefs. Tax benefits depend on circumstances and rules can change.

Who might consider investing?
VCTs, EIS and SEIS could be of interest to experienced investors who want to support younger UK businesses and save tax. This might include higher earners, people who have just realised a capital gains – from selling a business, buy-to-let property or other assets – or those who have received a large lump sum on retirement or redundancy. Meanwhile, investors concerned about inheritance tax may wish to consider inheritance tax portfolios or AIM Inheritance Tax ISAs. 
Categories
Brief overview
Tax benefits
View offers
Venture Capital Trust (VCTs)
Invest in a basket of typically between 30-70 young, small and dynamic companies

Up to 30% income tax relief
Tax-free growth
Tax-free dividends

View offers »
Enterprise Investment Scheme (EIS)
EIS provides a way of backing start-ups, available in single company and fund structures


EIS funds – become a direct shareholder of typically between 5-10 young companies

Up to 30% income tax relief
Tax-free growth
Capital gains tax deferral
Loss relief
IHT relief

View offers »
Seed Enterprise Investment Scheme (SEIS)
Invest in a basket of around 10+ startups

Up to 50% income and capital gains tax relief
Tax-free growth
Loss relief
IHT relief

View offers »
Inheritance Tax (IHT) Portfolios
Invest in a trading company/ies targeting capital preservation that should qualify for Business Property Relief
View offers »
AIM Individual Savings Account (AIM ISAs)
Invest in a portfolio of AIM-quoted companies that can be held in an ISA and should qualify for Business Property Relief

IHT relief
Make ISA IHT free

View offers »
2. Single Company Deals — an investment in a particular company, often with EIS tax relief
As the name suggests, these deals give you an opportunity to invest directly into a particular company, typically alongside institutional backers and on the same terms.
The deals we offer are usually EIS qualifying which makes them tax efficient - as seen in the table above.
These are carefully assessed early-stage private businesses.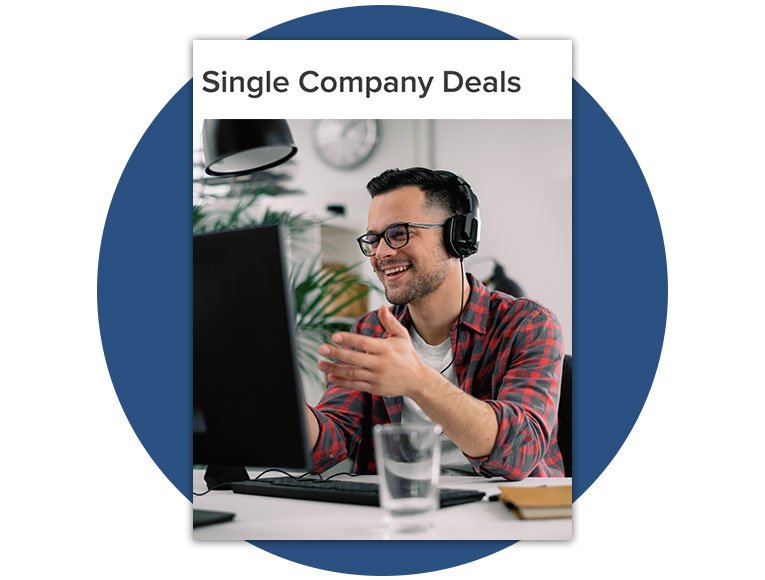 Wealth Club does the initial vetting – you make the final decision, unlike with EIS funds where the asset manager makes the investment decisions on your behalf.

Get it right and the rewards could be significant. But there are no guarantees of this and as you invest in a single company with no diversification, the risks are much greater.

Who might consider investing?
Single company deals might be of interest to experienced investors – often entrepreneurs themselves – who want to want to have more control and build their own portfolio. 
3. Quality Shares Portfolio — invest in exceptional listed companies
The Quality Shares Portfolio, managed by Charlie Huggins and exclusively available through Wealth Club, is a portfolio of 15-20 global listed businesses chosen by the fund manager for their resilience, financial strength and pricing power. They're the type of businesses where you can bury the share certificate in a drawer, dig it out 10 years later and, hopefully, find the profits and cash flows are materially higher.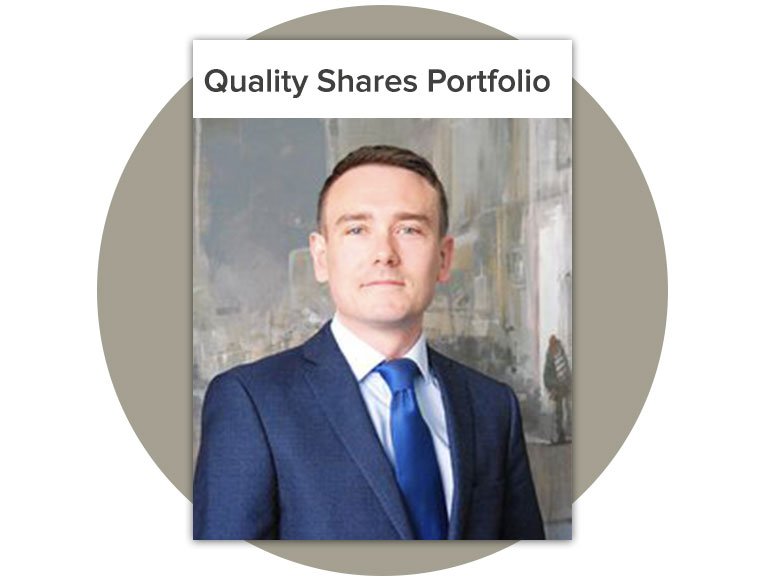 You can invest through an ISA (new subscription or transfer) or through a General Investment Account.

Who might consider investing?
The portfolio is specifically designed for people who are genuinely interested in investing. It offers unparalleled level of information, insight and transparency: from commentary on each of the companies in the portfolio to detailed monthly updates, views on companies and markets as well as details of Charlie's investment philosophy.
4. Alternative Investments — more advanced investments to add something different to your investment portfolio
If you are eligible, you can also get access to private markets funds that invest in private equity, private credit, infrastructure and real estate. These types of funds are usually only available to institutions or the ultra-wealthy: they have minimum investments that run in the millions and you need to be prepared to lock your money away for at least a decade. Through Wealth Club you can invest in private market funds through a semi-liquid fund structure, with minimum investments from £25,000.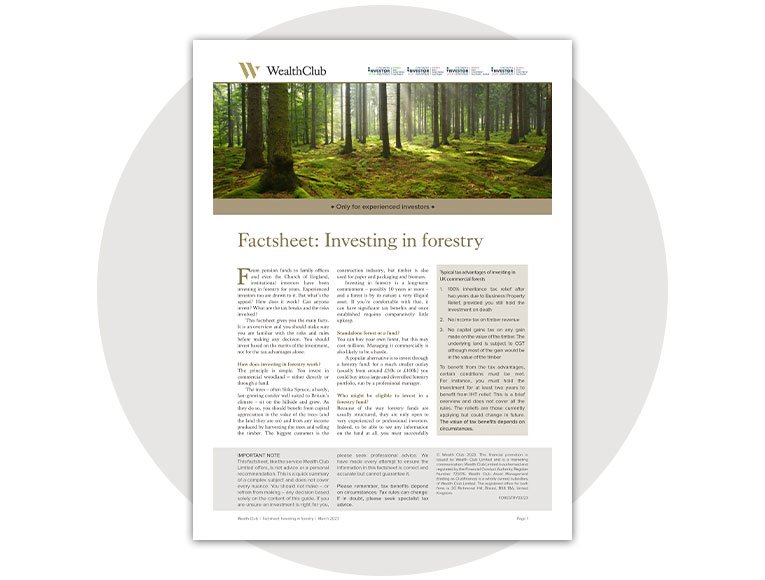 You can also invest in real assets – from forestry to commercial property.

Who might consider investing?
Experienced investors who want to add something a little different to an established portfolio of stocks and shares, and maybe some tax-efficient investments such as VCT, EIS or SEIS.
Maybe you want to diversify your portfolio further by investing in assets which may be broadly uncorrelated to stock-market investments or offer some degree of inflation proofing. Request for more information and see if you qualify to invest. 
Categories
Brief overview
Semi-liquid funds
Invest in established private companies. High growth/yield and normally out of reach for private investors.

Four types:

Private equity
Private credit
Real Estate
Infrastructure

Forestry
Invest in managed commercial forestry which should give investors:


IHT relief after two years
Largely tax-free income and growth

Property Deals
Invest in a commercial property or portfolio of properties (income + equity upside)
Private credit (closed fund/s)
Invest in a fund that backs distressed companies / turnaround opportunities
Request more information on Alternative Investments and check if you are eligible to invest – no obligation
Questions? 
We believe our job is to make it as easy as possible for experienced investors to make their own decisions. This is why if you have any questions – no matter how simple or complex – all you have to do is pick up the phone or email us. You will speak to someone who knows what they're talking about. Please note, we don't provide you with advice or personal recommendations.
Wealth Club aims to make it easier for experienced investors to find information on – and apply for – investments. You should base your investment decision on the offer documents and ensure you have read and fully understand them before investing. The information on this webpage is a marketing communication. It is not advice or a personal or research recommendation to buy any of the investments mentioned, nor does it include any opinion as to the present or future value or price of these investments. It does not satisfy legal requirements promoting investment research independence and is thus not subject to prohibitions on dealing ahead of its dissemination.