Specialist growth EIS: successful mobility aids retailer
Archived article
Archived article: please remember tax and investment rules and circumstances can change over time. This article reflects our views at the time of publication.
Exclusive for Wealth Club investors – co-invest alongside institutional investor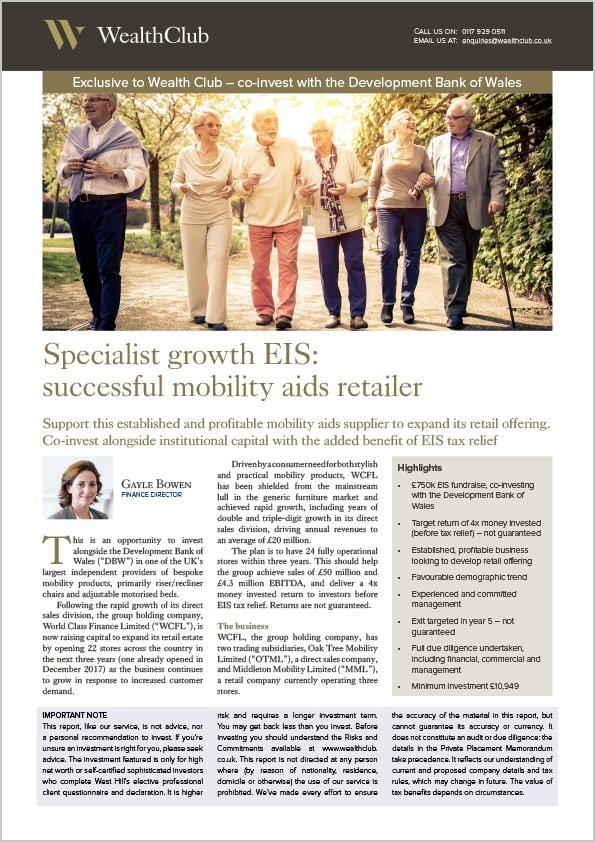 As a nation we are getting older – by 2046, nearly a quarter of the UK population will be over 65. This brings challenges: mobility issues, joint pain, poor health. But it also opens up opportunities.
This is an opportunity to support an established and profitable mobility product supplier to expand its retail offering, as the business continues to grow in response to increased customer demand. Wealth Club investors can co-invest alongside institutional capital with the potential added benefit of EIS tax relief.
Highlights
£750k EIS fundraise, co-investing with the Development Bank of Wales

Target return of 4x money invested (before tax relief) – not guaranteed

Established, profitable business looking to develop retail offering 

Favourable demographic trend

Experienced and committed management 

Exit targeted in year 5 – not guaranteed

Full due diligence undertaken, including financial, commercial and management 

Minimum investment £10,949
The opportunity
Following the rapid growth of its direct sales division, the group holding company, World Class Finance Limited ("WCFL"), is seeking £3.6 million to expand its retail estate as the business continues to grow.

A national bank, the Development Bank of Wales, will invest a total of £2.75 million made up of £817k equity and £1.9 million loan. We have negotiated an exclusive allocation of £750k for Wealth Club investors, who should also benefit from EIS tax relief although HMRC Advance Assurance has not yet been granted. 
Responding to customer demand, the management has put together a clear growth plan to expand by opening 22 new stores (one has already been opened in Cardiff in December 2017) and have a total of 24 fully operational stores within three years.
Driven by a consumer need for both stylish and practical mobility products, WCFL has been shielded from the mainstream lull in the generic furniture market and achieved rapid growth, including years of double and triple-digit growth in its direct sales division, driving revenues to £20 million in 2016.
With increasing age, requirements for support, whether through care or products, are considerably greater. Older people prefer to remain in their own homes as long as possible, and mobility aids can help them achieve this. At the same time, affluence amongst the elderly has grown. 

We, therefore, expect the sector to grow for the foreseeable future which is in direct contradiction to recent and anticipated trends in mainstream furniture sales, which only show small signs of growth. Moreover, as the purchase is often driven by necessity, we expect the business to be mostly uncorrelated to the overall economy. 

The business
WCFL has two trading subsidiaries, Oak Tree Mobility Limited ("OTML"), a direct sales company, and Middleton Mobility Limited ("MML"), a retail company currently operating three stores. 

In 2009 Tom Powell and Ricky Towler, co-founders, spotted a significant market opportunity to set up a bespoke mobility product business with excellent levels of customer care and service. They believed the competition offered a limited product range and had poorly trained staff who would often adopt inappropriate selling methods for vulnerable mobility customers.
This led to the creation of OTML, which sells made-to-measure riser and recliner chairs and adjustable motorised beds as well as bath and stair lifts directly to consumers in their homes. Today it has annual sales of approximately £20 million, maintainable EBITDA of £500k and one of the best reputations in the market for customer care.
In July 2013 the first retail store was opened in Bristol, to cater for the needs of more mobile consumers wanting to see a range of products in store.
There are currently two established stores – in Newport (leasehold) and Bristol (freehold) which generate run-rate annual turnover of £2.4 million. An additional store in Cardiff opened in late 2017. 

All staff across the two businesses are occupational-therapist trained and have attended courses on how to sell to vulnerable customers. The sale approach is consultative and informative so the customer feels under no obligation to buy. The success of this approach is testified by the impressive 98.47% customer satisfaction record.
The management team is impressive in our view. 
Ricky and Tom set this business up from scratch at the age of 26. They had no outside help. They are highly entrepreneurial and have surrounded themselves with experienced people. Indeed, the Finance Director, a chartered accountant who has spent the last ten years working for private equity backed businesses, was Finance Director at Peacocks where he was charged with rolling out 100 stores in four years.
Forecasts and target return
WCFL aims to have a total of 24 fully operational stores within three years. If the plan is successful, the group should achieve sales of £50 million and £4.3 million EBITDA providing investors with a 4x money invested return before EIS tax relief (not guaranteed). To read more details and see all the financials, please download the Information Memorandum and our research report. 
The institutional investor – the Development Bank of Wales
The Development Bank of Wales, formerly called Finance Wales, is a subsidiary of the Welsh Government set up to help Welsh businesses realise their potential for innovation, growth and economic impact. 
Today it is Wales' most active equity investor and the third most active in the UK. Over the last 16 years, it has directly invested £0.5 billion in Welsh businesses and attracted £0.6 billion from private investors. It is now committed to investing a further £1 billion over the next 5 years – equally split between direct investment and private sector investment. It aims to support 1,400 businesses and create and safeguard more than 20,000 jobs, by providing flexible funding (from £1,000 to £5 million) over periods of up to ten years.
In 16/17, the Development Bank of Wales's blended weighted average cash on cash return on mainstream equity investments was 2.1x. Please note past performance is not a guide to the future and returns are not guaranteed. 
Exit strategy
If the group delivers its roll-out plan and forecasts it would secure a very strong foothold and brand in a growing and recession-resilient market. At that point, potential buyers including trade and private equity may be interested. The company could sell or provide investors with an exit by refinancing. Management would consider rolling out more stores as they believe the UK has capacity for 100 stores. The company is targeting an exit in year 5. Exit routes and timescales are not guaranteed.
What to consider
This is a high-risk investment: capital is at risk. Please ensure you read the report and the Information Memorandum carefully. You should not invest money you cannot afford to lose. Returns are not guaranteed. The value of tax benefits depends on circumstances and tax rules can change.
Wealth Club aims to make it easier for experienced investors to find information on – and apply for – tax-efficient investments. You should base your investment decision on the provider's documents and ensure you have read and fully understand them before investing. This review is a marketing communication. It is not advice or a personal or research recommendation to buy the investment mentioned. It does not satisfy legal requirements promoting investment research independence and is thus not subject to prohibitions on dealing ahead of its dissemination.