CamGraPhIC EIS
Exclusive access to follow-on, mainly institutional round
Cambridge University spinout commercialising graphene photonics technology for 5G – endorsed by major Telcos

By next year, it is estimated there will be over 29 billion internet-connected devices in use around the world – a number more than threefold the global population.
As our use of the internet continues to grow exponentially, mobile networks turn to 5G to accommodate the escalating surge in data traffic. However, it is expected current technologies supporting 5G infrastructure may not be able to cope, and a bottleneck is forecast as early as 2023.
Cambridge University spinout CamGraPhIC Limited ("CamGraPhIC" or "the Company") is working closely with end-customers Ericsson and NVIDIA to address this. 
It is developing next-generation graphene/silicon chip devices it believes could become a core technology enabling new telecom and datacom devices to operate at the ultra-high speeds and bandwidths 5G increasingly demands – providing superior performance at lower cost.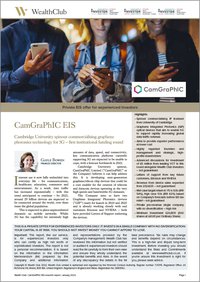 CamGraPhIC aims to have two Graphene Integrated Photonics (GIP) optical devices ready for launch in 2024 and 2025. Ericsson and NVIDIA have endorsed the devices with Letters of Support, Ericsson noting that "CamGraPhIC's developments based on graphene perfectly fit our future needs in terms of bandwidth density, power consumption, cost and scalability."
CamGraPhIC raised £1.5 million from Wealth Club investors in August 2021. The Company is also backed by high-profile strategic investors, including the co-founder Frontier IP Group plc – an investment company dedicated to driving the commercialisation of IP – and Cambridge Enterprise Limited.
Having delivered its key milestones since the last round, and to support progress, CamGraPhIC is launching an £8 million – predominantly institutional – funding round and is in advanced discussions with several Venture Capital firms and is expecting a leading UK VCT to invest £5 million to cornerstone the round. Due diligence is in advanced stages, with completion expected in March 2022 subject to contract – not guaranteed.

Wealth Club EIS investors have an exclusive opportunity to co-invest alongside the VCT – the allocation is £750k. Thereafter, applications will be accepted on a first-come, first-served basis, subject to capacity. 

Based on the Company's forecasts, the mid-case target return is 8.8x (IRR 54%), high case 11.1x (IRR 62%) after five years – high risk and not guaranteed.

Important: The information on this website is for experienced investors. It is not advice nor a research or personal recommendation to invest. If you're unsure, please seek advice. Investments are for the long term. They are high risk and illiquid and can fall as well as rise in value, so you could get back less than you invest.
Read important documents and apply
The deal at a glance
| | |
| --- | --- |
| Type | Single company EIS private offer |
| Stage | IP commercialisation/start-up |
| Date started trading | Founded in 2018 |
| Funding to date | £2.2m equity plus £1.7m loan facility from Frontier |
| Co-investors (new and existing) | Leading UK VCT (not guaranteed), Frontier IP, Cambridge Enterprise Limited, private investors, Wealth Club investors |
| Sector | Data telecommunications |
| Fully diluted pre-money valuation | See research report |
| Market size | $1-2bn p.a. |
| Business model | B2B |
| Revenue to date | The company has so far signed contracts worth €584k and received payment (or materials transferred from the SSSA) totalling €250k |
| Revenue model | Sale of devices to data/telecoms companies |
| Profitability forecast from* | FY26 |
| Forecast revenue in year 5* | £133.1m |
| Forecast EBITDA in year 5* | £42.1m |
| Target return in year 5* | 8.8x |
| Target IRR* | 54% IRR |
*These are forecast and not guaranteed. Capital is at risk – you could lose the amount you invest.
Highlights
Spinout commercialising IP licensed from University of Cambridge 
Graphene Integrated Photonics (GIP) optical devices that aim to enable 5G to support rapidly increasing global data traffic volumes
Aims to provide superior performance at lower cost 
Highly regarded founders and management and strategic, high-profile shareholders
Advanced discussions with leading VCT to cornerstone round alongside Wealth Club investors – not guaranteed
Letters of support from key future customers
Revenue from device sales expected from 2024/25 – not guaranteed
Mid-case target return in Y5 is 8.8x (IRR 54%), high case 11.1x (IRR 62%) based on Company's forecasts before EIS tax relief – not guaranteed
Private pre-revenue single company with no diversification – high risk 
Minimum investment £20,805 (500 shares at £41.61 per Ordinary Share)
The overview provided on this website is based on the information available in the Information Memorandum prepared by the Company and additional information and representations provided by the Management upon request. Wealth Club has reviewed the information provided but not verified or audited it. Please request access to the offer documents carefully to form your own view and ensure you wholly understand the potential benefits and risks. Private pre-revenue single company with no diversification – high risk 

What does CamGraPhIC do?
After over a decade of academic research at Cambridge University and CNIT (Consorzio Nazionale Interuniversitario per le Telecomunicazioni) – a research consortium of 37 Italian universities – CamGraPhIC is developing next-generation graphene photonics technology to enable the very high speeds and bandwidths 5G demands, aiming to deliver superior performance at a lower cost than competing technologies. 

Graphene, often described as "wonder material", is the thinnest material known to man but about 200 times stronger than steel. Scientists also view it as having remarkable optoelectronic properties, so it can convert electrical signals to modulated light signals and back at super-fast (100+ gigabits per second) speeds, hence its appeal for 5G infrastructure applications. 
CamGraPhIC aims to design, develop and manufacture next-generation GIP for the telecoms and datacoms markets. It is developing two key product devices, both of which are currently being tested.
The Company advises that it is progressing well through its Development Plan and is achieving – or on track to achieving – its key milestones as anticipated. 

Since the last funding round, in August 2021, it has delivered several milestones in the testing process and is on track to demonstrate proof-of-concept devices at strategic customer sites early in 2022. In addition, it has made further patent applications, signed service contracts with strategic customers, hired key staff and continued with product development.

The Company's founders and shareholders believe graphene-based GIP could transform the future of telecommunications.

Risks – important 

This, like all investments available through Wealth Club, is only for experienced investors happy to make their own investment decisions without advice.
This investment is high risk so should only form part of a balanced portfolio and you should not invest money you cannot afford to lose. They also tend to be illiquid and hard to sell and value.
Before you invest, please carefully read the full investment documentation – including the Information Memorandum which contains further details on the considerable risks, alongside the Wealth Club Risks and Commitments.
This is a single company offer with no diversification. It involves investing in an early-stage, loss-making business, which is by nature high risk and prone to failure. In addition, the Company has yet to achieve regulatory approval. You could lose the amount you invest.
Graphene photonics is an early adoption technology and may be received with scepticism. There may also be poorer performance of the devices than expected. If these factors delay the timescales towards sales, it would materially impact the ability of the Company to deliver its forecasts.
The Company will require further funding to help deliver its plan– securing this funding is not guaranteed. 
Investor funds will not be deployed until the Company receives institutional investment. This is expected in March 2022 but it is not guaranteed. 
Wealth Club does not take a seat on the board so cannot influence the business the same way as is usually the case with institutional investors taking a full board position.
The value of tax benefits depends on circumstances and tax rules can change. 
An exit could take longer than the three-year minimum holding period. Conversely, an early exit could mean loss of EIS tax relief.
Structure and fees
Investors will pay no direct initial or ongoing charges to invest. Fundraising costs are being met by the Company. Wealth Club will be entitled to a performance fee on exit. 
Wealth Club investors will invest using a nominee structure. This service is provided by Wealth Club's subsidiary companies Wealth Club Asset Management Limited (authorised and regulated by the FCA) and Wealth Club Nominees Limited. Wealth Club Nominees Ltd will be completing the share subscription documentation on investors' behalf.
Please refer to the Schedule of Charges for more details on charges. 
All the services Wealth Club and, where applicable, its subsidiaries provide are governed by the Terms and Conditions of the Wealth Club Services.
Register your interest – no obligation
Wealth Club aims to make it easier for experienced investors to find information on – and apply for – tax-efficient investments. You should base your investment decision on the provider's documents and ensure you have read and fully understand them before investing. This review is a marketing communication. It is not advice or a personal or research recommendation to buy the investment mentioned. It does not satisfy legal requirements promoting investment research independence and is thus not subject to prohibitions on dealing ahead of its dissemination.
The details
Type

Single company

Sector

Technology

Target return

8.8x (IRR 54%)

Funds raised / sought

£750,000 sought

Minimum investment

£20,805

Deadline

Limited allocation
Downloads